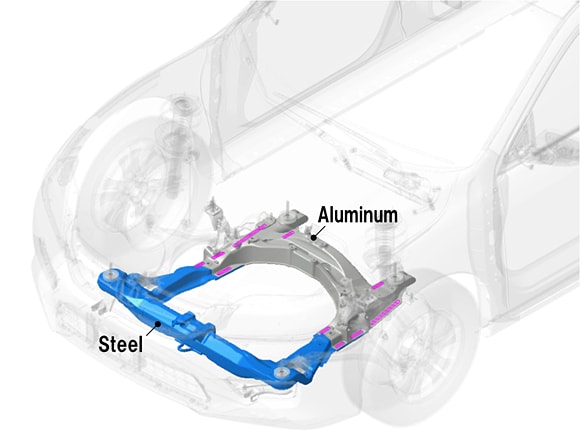 The Honda Company announced on September 6, 2012, that it has created a new technology that has the ability to weld unrelated metals of steel and aluminum together in a continuous motion. This new technique saves the company time and energy and, ultimately, will save consumers money.
New Welding Technique Used on Honda Vehicles
Honda applied their welding technology for the first time on only one part of the vehicle: the subframe. The subframe of a mass produced vehicle is very significant to the car's overall frame. The
2013 Honda Accord
in North America will be the first car that will experience this new technology and will be available for purchase on September 19, 2012. According to Honda's
news release
, if all goes as planned the new technology will be applied to other Honda models.
Weld Technology Decreases Car Weight
Honda created the new welding technology in order to lessen the weight of the car. This welding technique decreases the Honda's overall weight by 25% when compared to the old steel frame. The decreased weight will create a marked increase in fuel efficiency and help the car's dynamics. In order to achieve better fuel efficiency, Honda is focusing on developing friction stir welding. Friction stir welding creates a lighter material, but will not negatively affect the car's performance.
Friction Stir Welding Process
Friction stir welding fuses steel and aluminum together, which creates a metallic bond that is more stable than either steel or aluminum alone. This bonding is created due to a rotating tool that is placed on top of the aluminum. Next, the aluminum is placed over the steel at a high pressure. The result is that the strength of the welding is greater than or equal to metal inert gas welding.
Welding Technique Saves Money and Energy
Honda's new welding process also decreases the amount of electricity used by half. The lighter subframe will change the mounting point for the vehicle and may enhance the car's aerodynamics. Honda is working to apply this new technology to vehicles that are mass-produced. The friction stir welding technique traditionally used larger equipment but Honda has found a method that uses an industrial robot that is highly efficient.
Honda Continues New Technology
The friction stir welding system can also be applied to the process of welding aluminum to itself so a full aluminum subframe can be created. In addition to this new welding process, Honda has created a system that can evaluate the quality of parts without destroying them. The process uses an infrared camera, in addition to a laser beam, to inspect each part which keeps them intact.
The Honda Company is continuously developing new production techniques to improve the quality of their cars. Honda is the first company in the world to apply the hybrid, friction stir welded subframe to a mass produced car. The new welding process will also lighten cars, increase fuel efficiency and save consumers money.